At Dr. M. Jawanda Dentistry in Quesnel, our dentists offer custom-fitted dental appliances that can help both improve and protect your oral health.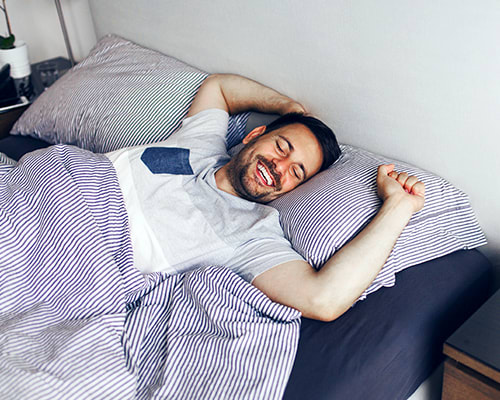 What is a Dental Appliance?
Maintaining your oral health can entail more than just brushing and flossing. For those of us who clench or grind our teeth, snore, or play sports, dental appliances can help preserve and protect our oral structures.
Dental appliances offered at Dr. M. Jawanda Dentistry – such as mouth guards and sleep apnea devices – may be able to help improve and protect the health of your oral cavity.
Snoring & Sleep Apnea Appliances
Sleep disorders can interrupt your sleep and have negative consequences for your overall health and wellbeing. Your dentists use a variety of oral appliances that are custom-fitted to help the patient sleep soundly and minimize the effects of snoring and other apnea symptoms.
In patients who snore, their throat tissues relax and cause the airway to restrict, producing the sound we know as snoring when oxygen is forced through.
For patients with sleep apnea, this chronic condition causes their throat tissues to relax so much that the airway becomes blocked, forcing the brain to wake them up to breathe. People with sleep apnea can stop breathing for anywhere between 10 seconds to one minute or more.
At Dr. M. Jawanda Dentistry, we provide custom-fitted oral appliances to help advance the mandible to both minimize snoring and open the airway. This can help to improve your flow of breath and prevent you from waking up throughout the night. 
Custom-Fitted Mouth Guards 
We offer custom-made mouth guards to wear over your teeth to help protect them from damage. 
Sports Guards
A sports mouth guard provides a barrier between your teeth and the soft tissue of your mouth to protect your smile.
With proper storage and care, your mouthguard may help to prevent injuries such as fractured or chipped teeth, and cut gums or lips for many games to come.
Night Guards
Do you grind your teeth as you sleep? A mouth guard can help protect your teeth from damage. If you clench your jaw, a mouth guard may also help prevent you from clenching and provide some pain relief.
Your dentist can fit you for a custom night mouth guard to help protect your teeth during sleep.
New Patients Always Welcome
Looking for a dentist in Quesnel? We're happily accepting new patients at our dental clinic! Contact us to get started today.
Request Appointment
Hours
Monday:

11:00 am - 07:00 pm

Tuesday:

07:30 am - 05:00 pm

Wednesday:

07:30 am - 05:00 pm

Thursday:

07:30 am - 04:30 pm

Friday:

Closed

Saturday:

Closed

Sunday:

Closed
Quick Links