At Dr. M. Jawanda Dentistry, our Quesnel dentists offer traditional braces and Invisalign clear aligners as orthodontic treatment options to help straighten your smile.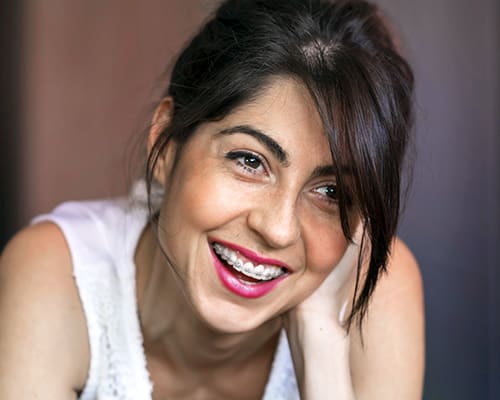 How Orthodontics Work
The goal of orthodontic treatment is the same for children, teenagers or adults – to straighten teeth in order to alter both their appearance and function.
Because misaligned teeth can cause a variety of oral health problems, braces or clear aligners may be able to both correct this problem and help your long-term oral health.
This goal can be achieved using braces or clear aligners to put gentle pressure on your teeth to shift them into the prescribed position over a period of months or years.
Traditional Braces
Traditional braces are made of either metal or ceramic and can help straighten teeth. You may find your braces to be easier to clean and lower profile in appearance from the orthodontic appliances of the past. 
How Braces Straighten Teeth
Braces put continuous pressure on the teeth over a period of time, slowly moving them into their new, prescribed positions.
As pressure is applied and the teeth shift, the bone changes shape to accommodate the new positions of the teeth.
Invisalign Clear Aligners
Invisalign clear aligners gradually straighten your smile using a series of individually customized, clear plastic aligners that are adjusted over a period of time.
Invisalign clear aligners are removable for when you'd prefer no one know that you are straightening your teeth and there are no restrictions on what you can eat. You also won't need adjustment appointments like those required for braces.
Clear aligners look similar to custom whitening trays. You can even remove them to eat, drink, brush and floss!
New Patients Always Welcome
Looking for a dentist in Quesnel? We're happily accepting new patients at our dental clinic! Contact us to get started today.
Request Appointment
Hours
Monday:

11:00 am - 07:00 pm

Tuesday:

07:30 am - 05:00 pm

Wednesday:

07:30 am - 05:00 pm

Thursday:

07:30 am - 04:30 pm

Friday:

Closed

Saturday:

Closed

Sunday:

Closed
Quick Links