Teeth Whitening in Quesnel
At Dr. M. Jawanda Dentistry, our dentists offer take-home teeth whitening options to help our Quesnel patients brighten their smiles.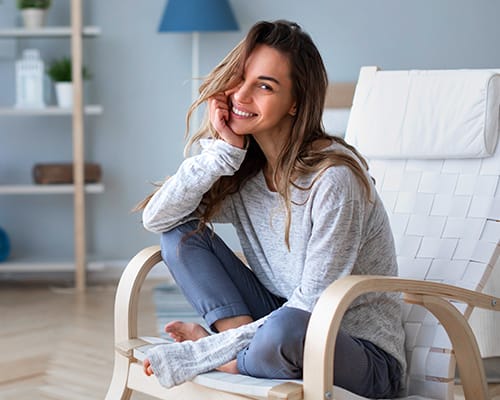 What is At-Home Teeth Whitening?
Whitening your teeth at home is a way to remove stains and lighten the colour your teeth. 
With age, teeth often become more vulnerable to staining from food and other substances. Particles are naturally attracted to a tooth's enamel, and products like coffee, tea, berries and tobacco are notorious for staining teeth.
The bleaching agents used during the teeth whitening treatment process are designed to reverse these effects of aging and staining, lightening the colour of your teeth. 
How Teeth Whitening Works
Teeth whitening uses bleaching agents that are peroxide-based. Oxygen acts on the tooth enamel as the active ingredient breaks down, creating the whitening effect. 
Take-Home Teeth Whitening in Quesnel
At Dr. M. Jawanda Dentistry, we offer at-home whitening options so that you can whiten your teeth in the comfort of your home. Custom whitening trays are created for your smile. Your dentist will also provide you with at-home instructions to follow during your course of treatment.
How does at-home teeth whitening work?
Take-home teeth whitening kits are an option for people looking for a way to whiten their teeth.
To start, your dentist will make a custom mold of your teeth, which will be used to produce your whitening trays. These trays will be filled with gel, and you'll use them per your dentist's instructions. Patients may start to notice a difference in 10 to 14 days. Further results are often experienced by the end of your treatment.
Teeth Whitening FAQs
Read the answers to our most frequently asked questions about teeth whitening at Dr. M. Jawanda Dentistry. 
New Patients Always Welcome
Looking for a dentist in Quesnel? We're happily accepting new patients at our dental clinic! Contact us to get started today.
Request Appointment
Hours
Monday:

11:00 am - 07:00 pm

Tuesday:

07:30 am - 05:00 pm

Wednesday:

07:30 am - 05:00 pm

Thursday:

07:30 am - 04:30 pm

Friday:

Closed

Saturday:

Closed

Sunday:

Closed
Quick Links